Services





Products



Resources



ShotStat Version 2.0 for Windows
Graphical Target Analysis Screen Shot
Features in Version 2.0
Purchasing Information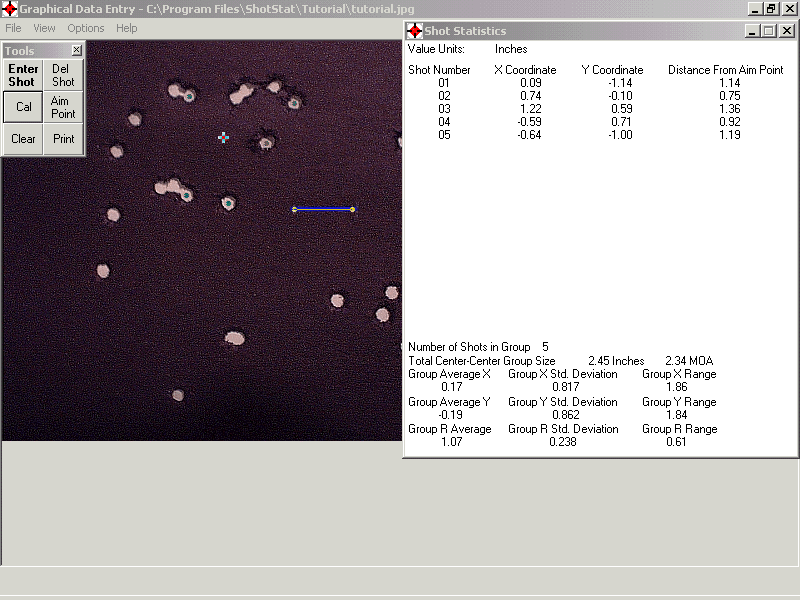 Return to Top of Page
Features
Current Release: 2.0.13, Stable
Graphical data entry using a mouse to compute group statistics directly from the target.
Statistics computed for horizontal (x), vertical (y) and distance from the shooter's point of aim.
Export group statistics to spreadsheet programs such as Microsoft Excel and OpenOffice.org Calc.
Group Centroid shows computed center of group; comparing this to the shooter's point of aim can help pinpoint site picture or site alignment problems.
Group size computed in selected units (inch, cm or entered by user) and Minutes of Angle (MOA).
Text data entry for computing statistics for case weights, bullet weights, muzzle velocity ro any data (up to 20 elements) the user has.
T-Test and F-Test statistical testing for quantitative load performance comparisons. This can also be used for comparisons of other metrics, such as bullet weight averages, etc.
Includes manual in html and pdf formats. The html manual is readable from within ShotStat; the pdf manual can be printed if a hard copy manual is prefered.
Per user default configuration.
Free Technical Support and Free Upgrade to the next release version.
Return to Top of Page
Purchasing Information
The sale of the full version of ShotStat is temporarily suspended. We apologize for any inconvenience this may cause. You can download a Free 2.0.13 Demo. Please note, however, that this demo has limited functionality.

Return to Top of Page